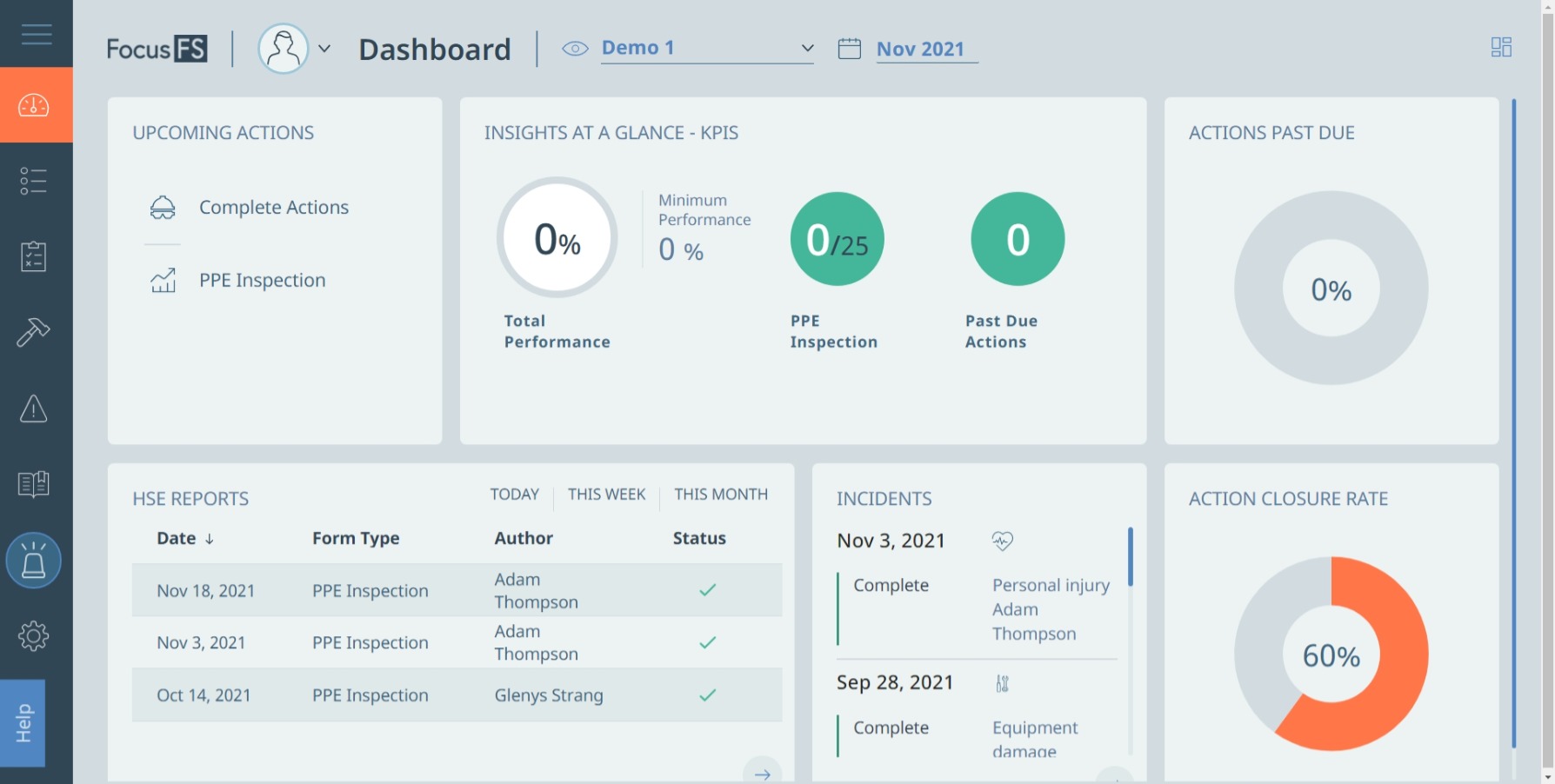 The main Dashboard provides an overview of your various reports, actions, KPIs and more.

At the top of the dashboard, you can access your profile or log out by clicking the arrow next to your profile picture. You can select to view data from different worksites that you have been granted access by clicking the arrow to the right of the worksite name. Click on the date to select/filter the data you want to view by date for the current dashboard or view and active worksite.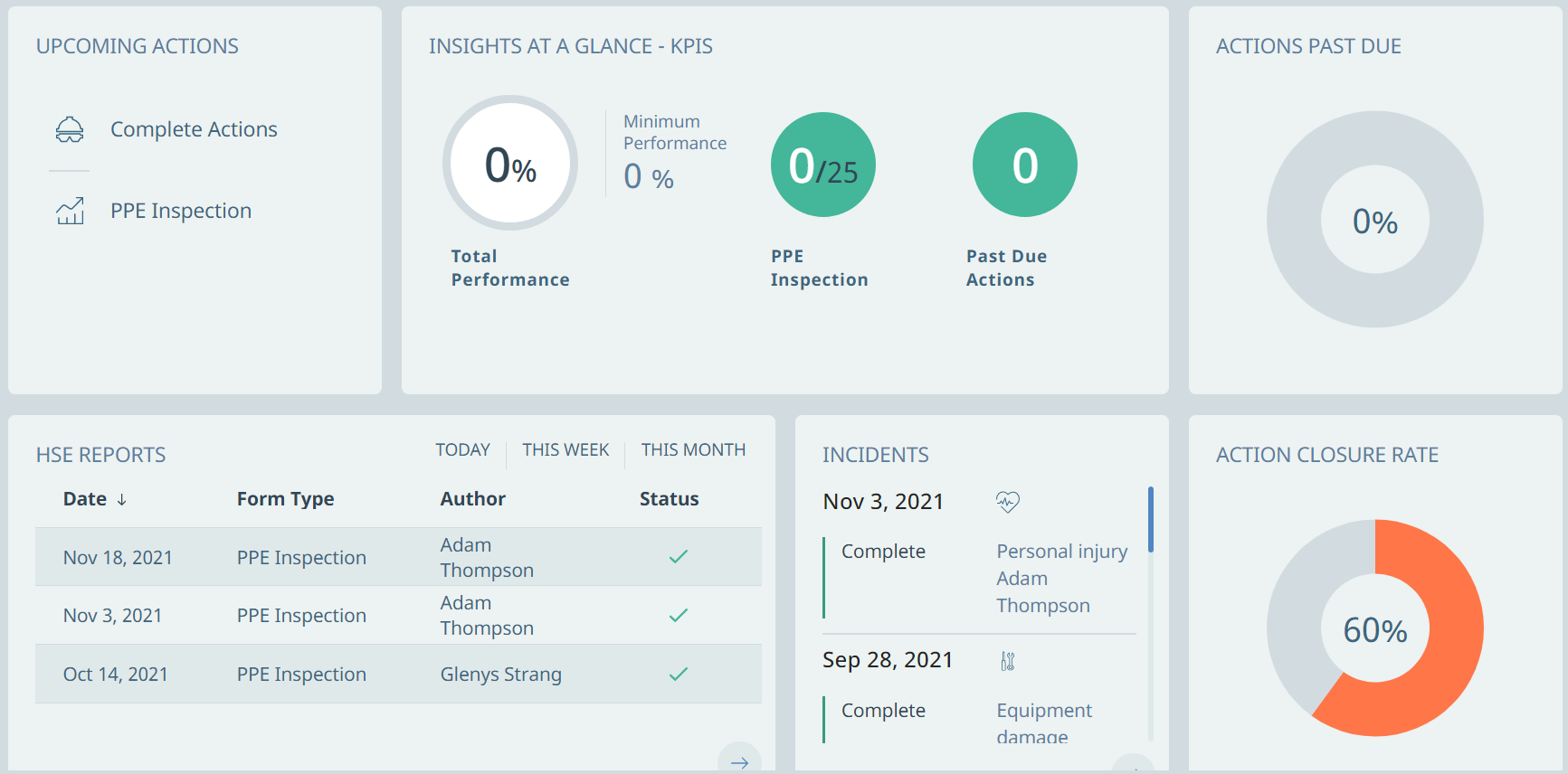 The main body of the dashboard is comprised of tiles. You can customize your dashboard by adding information you would like to see upfront with tiles.
In the above example, there are six tiles: Upcoming Actions, Insights at a Glance - KPIs, Actions Past Due, HSE Reports, Incidents, and Action Closure Rate.
Deleting and Adding Tiles

You can customize which tiles appear on your dashboard by clicking the multi-square icon in the top right corner of the main dashboard. When clicked, the icon turns orange and the tiles are highlighted.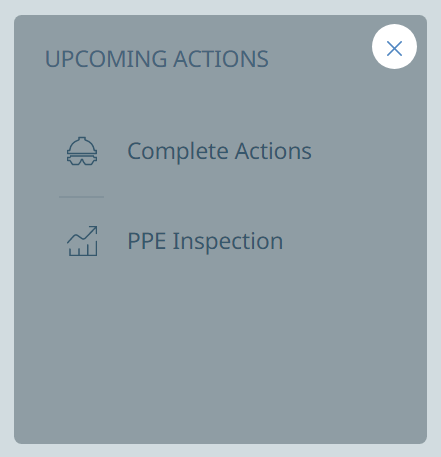 To delete a tile, click on the X button in the top right corner of the tile.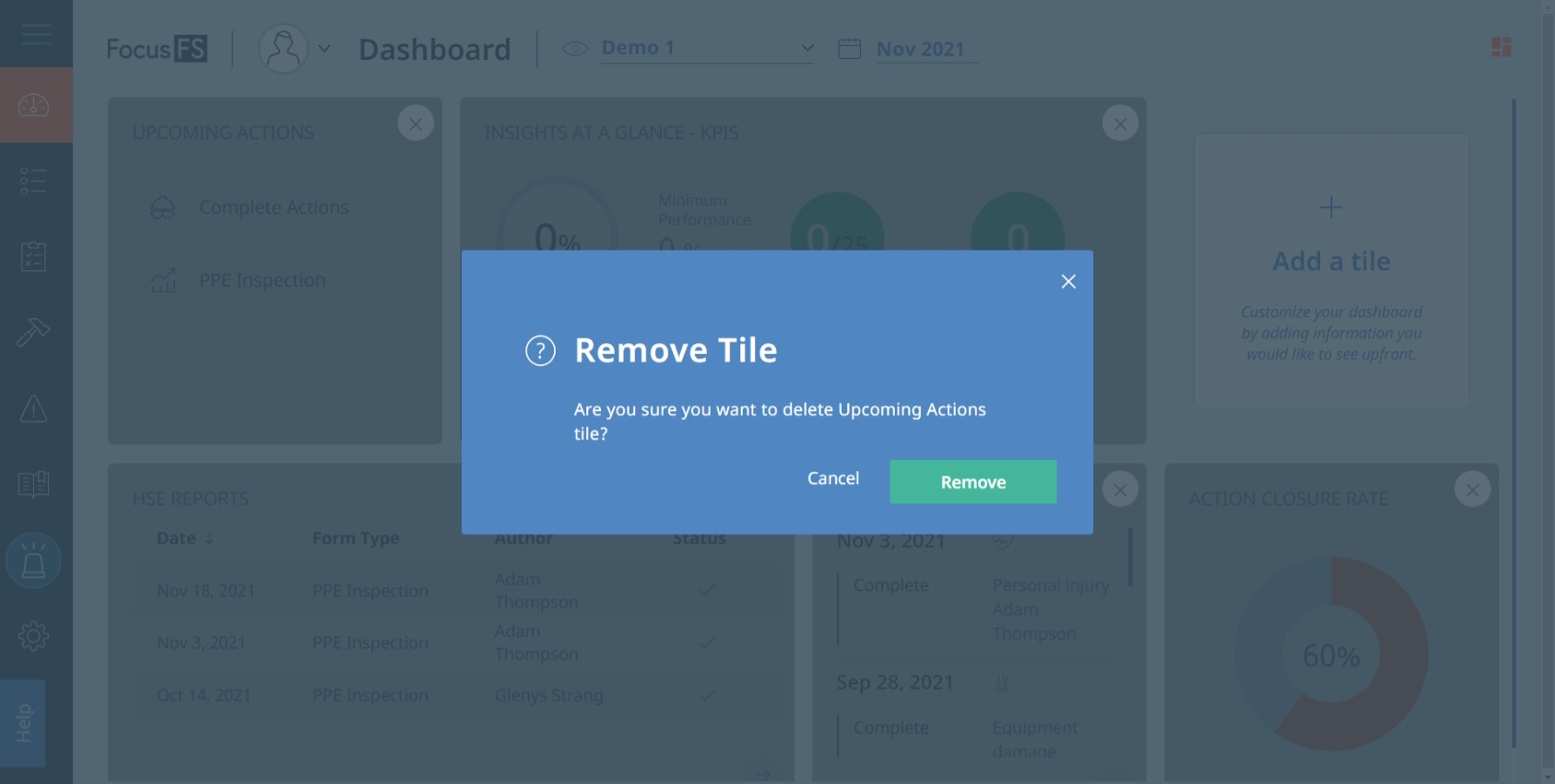 A pop-up will ask you to confirm that you want to delete the tile. Click Remove to proceed, or click Cancel or X to go back without deleting the tile.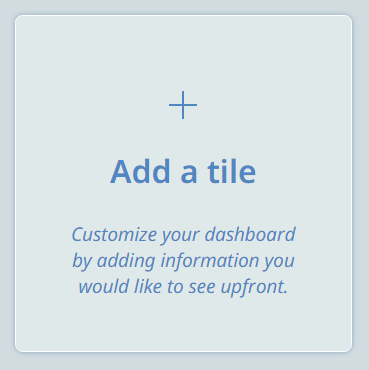 A new tile can be added to the dashboard with the Add a Tile feature.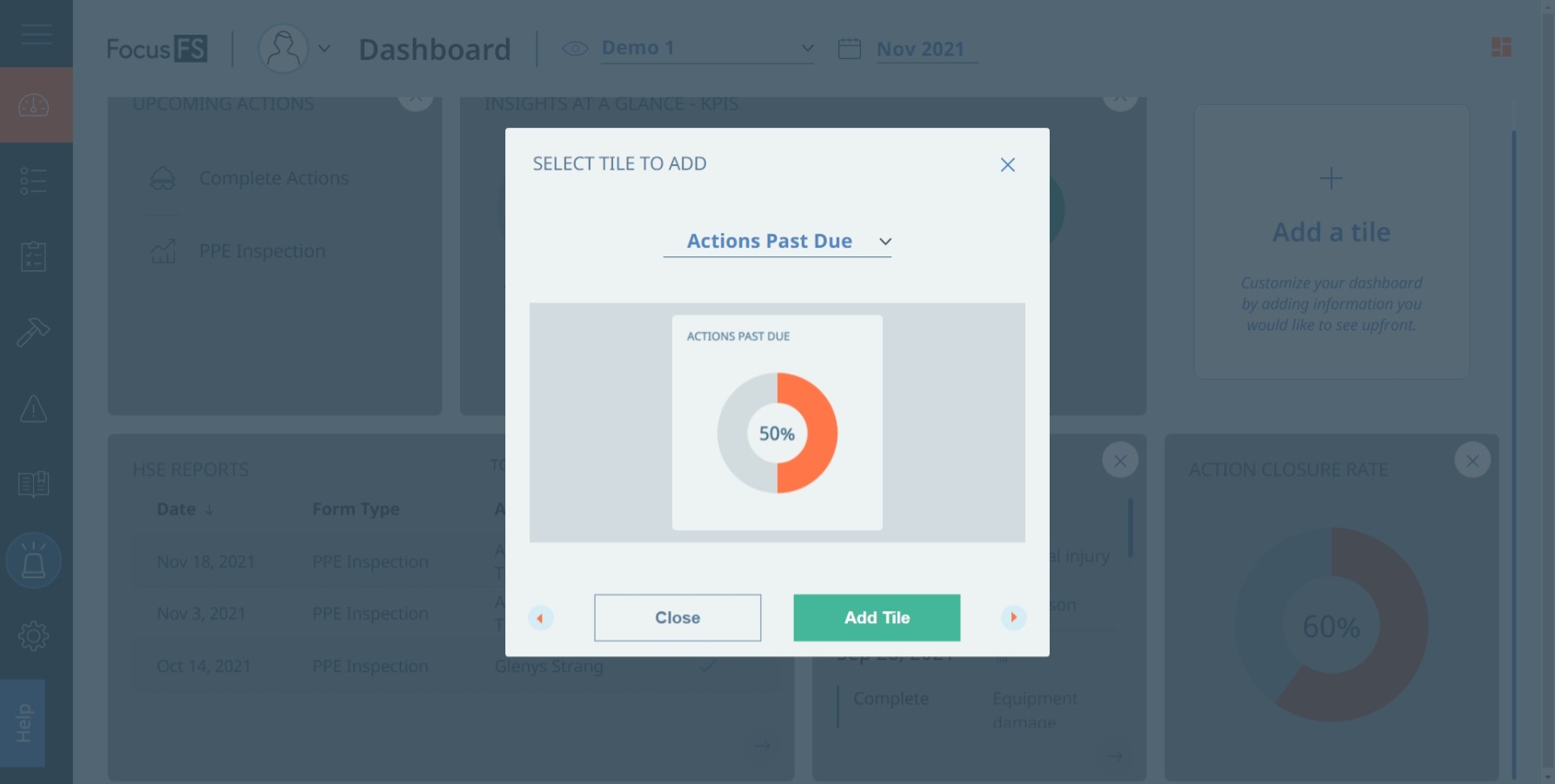 From the pop-up, select the tile you want to add. Click Add Tile to add the tile, or click Close or X to go back without adding the tile.

When you have finished adding and/or removing tiles, click the orange multi-square icon in the top right corner of the screen. The icon and tiles return to normal mode.
Adding Tiles to My Shortcuts
You are also able to customize the My Shortcuts tile to help navigate the system faster. Click the pencil icon in the top right corner and then click the + tile that appears in the window. Select a tile from the dropdown list that appears, then click Save.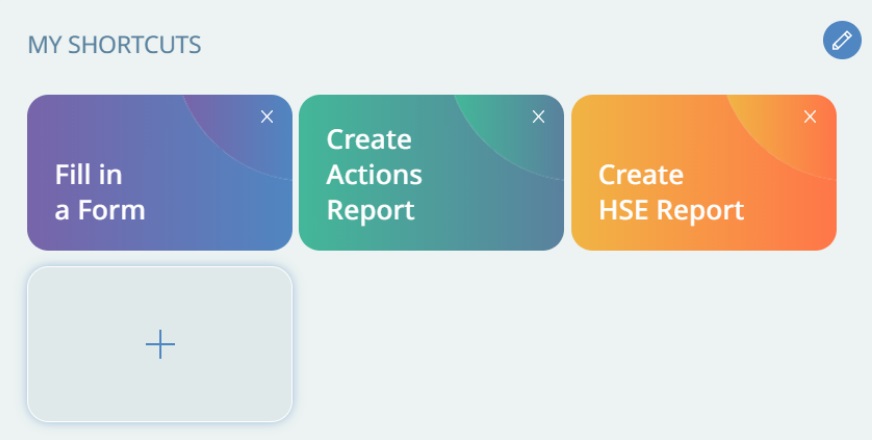 Click the pencil icon again to return to the normal tile functions.
Toolbar Access and Features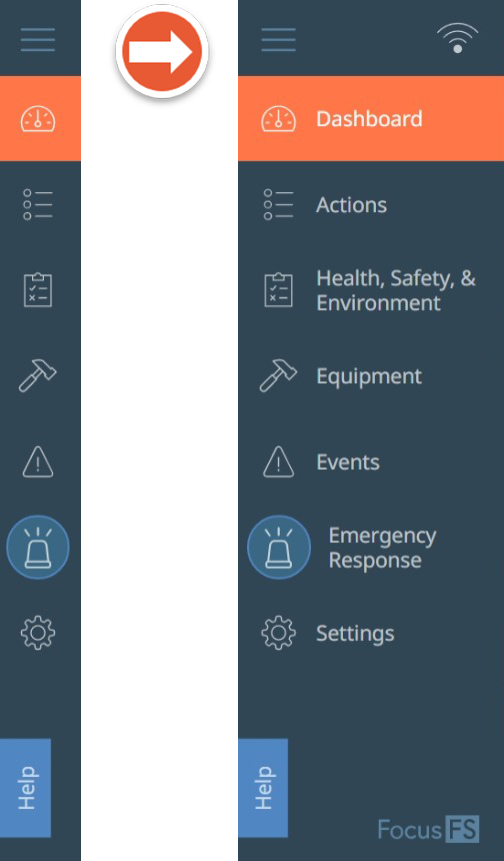 The left toolbar provides shortcuts to various sections and features. When a section or feature is selected, its icon is highlighted in orange. (Depending on your organization's subscription and the access and permissions granted, you may or may not see all the modules listed above.)
Click on the top icon (three horizontal lines) to expand this toolbar for more information about the sections available to you. Your network status appears in the top right corner of the expanded toolbar. The installed version is also displayed in the lower right corner of the expanded toolbar.
You can click on the bottom Settings gear icon to access your settings.
The Help button is located in the lower left corner. Click on this button to bring up the Focus FS Help Centre. (The button automatically hides on some screens, so you might need to adjust your screen resolution for it to re-appear.)